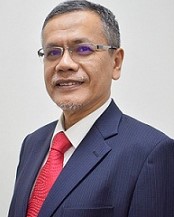 Ir Abdul Aziz Omar AMP
Director
Engineering and Engineering Technology Accreditation Departments
Board of Engineers Malaysia (BEM)
Malaysia

Ir Abdul Aziz Omar, AMP, is currently the Director, Engineering and Engineering Technology Accreditation Departments, Board of Engineers Malaysia.
Ir. Abdul Aziz completed his tertiary education in the United States, where he obtained his Masters and Bachelor degrees from Ohio University. While his undergraduate training was in Chemistry and Chemical Engineering, his graduate specialisation was in Environmental Studies. Ir. Abdul Aziz has over 19 years of experience as an academician, 6 years as a process/project engineer and 4 years as a senior manager. He has worked on many projects related to the environment, safety studies and process engineering design. Among his many experiences, a significant one would be the setting up of the School of Chemical Engineering at Universiti Sains Malaysia. He was appointed the founding Dean of the School. In March 2001, Ir. Abdul Aziz joined UTP, where he was the Associate Professor in Chemical Engineering until 2016 before was seconded to BEM in his current position.
Ir. Abdul Aziz is a registered Professional Engineer in Chemical Engineering, registered with the Malaysian Board of Engineers since 1989, and Chartered Engineer from United Kingdom from 2006. He is a Fellow of the Institution of Chemical Engineers (IChemE), UK.